Camp Wyman is a place where over 5,000 young people and adults come every year to build connections and relationships with their peers and the larger, natural world around them. It is where they come to step outside of their comfort zone, challenge themselves, and build new skills.
Collaborations with local school districts – like Webster Groves – have brought these educational and experiential programs to thousands of students and provided them with the opportunity to celebrate their own leadership, energy, and determination. With the support of Wyman and school staff, they build skills, develop a positive sense of self, and create connections and relationships.
74 years of partnership
2022 marked our 74th year of partnership with the Webster Groves School District (WGSD). In 1948, Wyman developed a "School Camp" program and partnered with William Kloppe, Director of Outdoor Education at the Webster Groves School District, to develop a licensed school curriculum around studying nature. Beginning in the fall of 1950, WGSD began sending their 6th grade students to Camp Wyman for a weeklong outdoor educational camp experience.
Over the years, the partnership with WGSD has become more than camp. It has become a tradition that 6th graders look forward to every year. It has become an opportunity for students to step outside of their comfort zones and build skills outside of the classroom. And it has become an important place for students to build new friendships and connections that last throughout middle school and high school and into their futures. "I think that the camp experience is so essential to the students' development, and every child should have a chance to learn in an outdoor experiential setting. Moreover, the fact that WGSD has been attending Wyman in particular for almost 75 years means that there is a strong sense of communal history between the two," says Debeaux Bowman, or 'Hippo', who graduated from Webster Groves in 2018 and is now an Outdoor Program Facilitator with Wyman.  "As a student, you feel very connected to your community because you are taking part in an old coming of age tradition just like countless Webster residents before you. Getting to go to camp is a treat; but getting to go to the same camp that your older siblings, friends, cousins, or possibly even parents or teachers attended connects you to something bigger than yourself and your school class."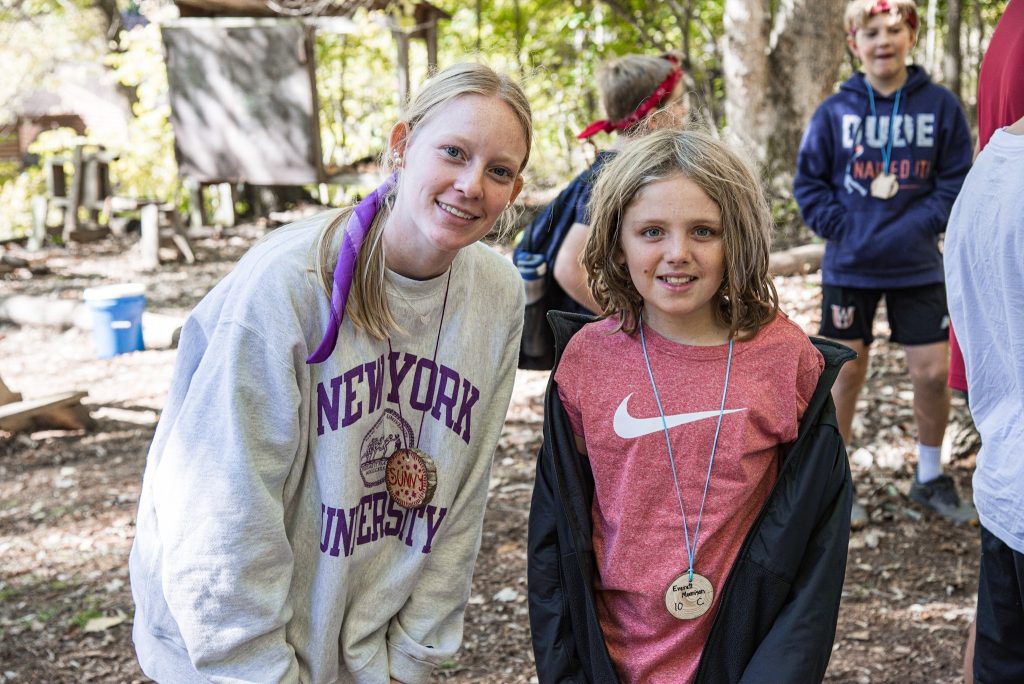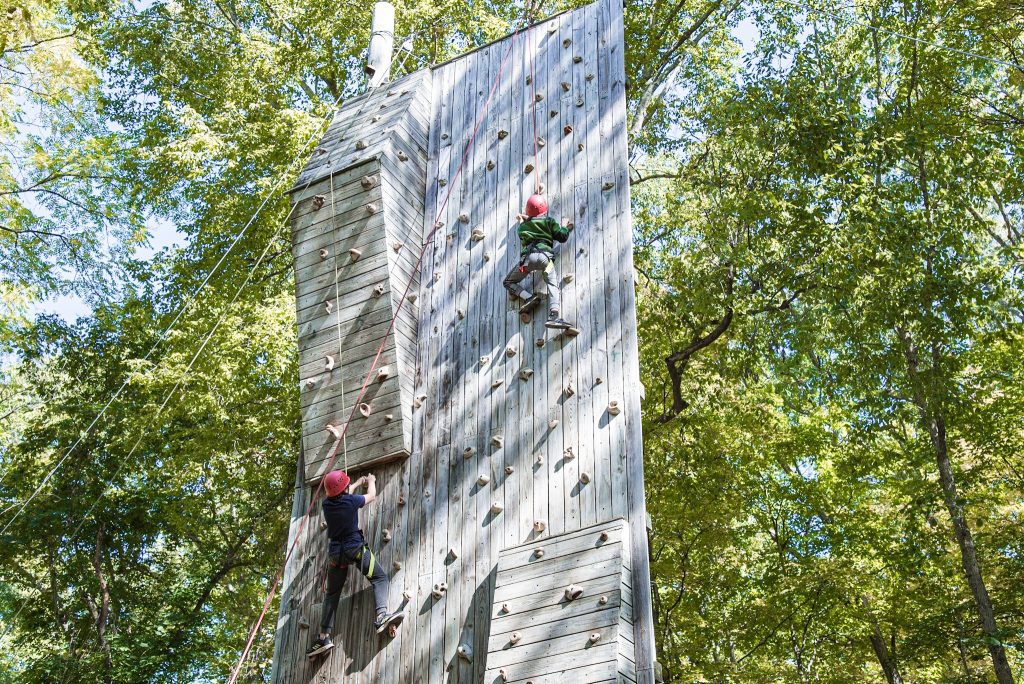 Sixth graders come to WGSD's Hixson Middle School from six elementary schools across the district and private schools from the area. Camp creates an opportunity for them to get to know each other and develop strong relationships and connections. "Our elementary schools pull students based on geography. So up until 6th grade, they are friends primarily with other kids who live near them, or because their families know each other," says Kelly Williams, teacher at Hixson Middle School. "Those first few weeks of school, we try to introduce them to new friends and then at camp, they meet even more kids and hang out together. At first, a lot of them are upset because they are separated from their elementary school friends. But, by the end of camp, they have had the chance to choose their own friends; they find their people and are learning to be their more authentic selves."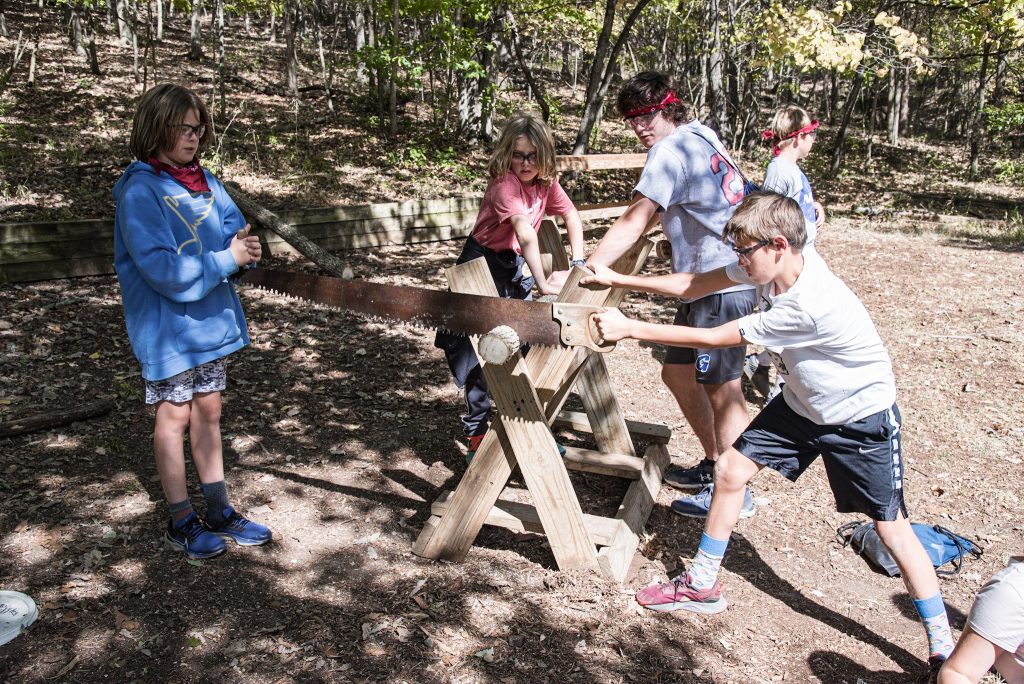 Continuity throughout the pandemic
At Wyman, we know how important social connections are for young people – especially now as we recover from the COVID-19 pandemic and really begin to see the impact it has had on students and the social experiences and connections they have missed over the last two years.  In partnership with WGSD, we ensured that the camp tradition continued – giving students a chance to connect with one another, even if the experience looked a little different.
During the 2020-2021 school year, Wyman brought camp to Steger Sixth Grade Center. Our Camp Wyman Experiences and the WGSD teams made sure each student was able to experience team and relationship building through activities like tree climbing, target sports, and living history. "This was the first time the students had really been around other kids for a year and what we found was that a lot of them didn't know how to talk to each other or work together," says Williams. "Even though this camp experience was near the end of the school year, it gave them hope that things could be normal again." For the 2021-2022 school year, Wyman welcomed campers back in the spring for day camp. Finally, the 2022-2023 campers were able to resume camp as usual this fall. Every 6th grader in WGSD came to Camp Wyman for 4 days and 3 nights. We served 340 6th grade students, 90 high school counselors, and 20 teachers over the course of 3 weeks this fall. Programming included the climbing wall, night hikes, and target sports with plenty of opportunities for campfires and teambuilding. According to Williams, having this camp experience in the fall helps set the foundation for a successful school year. "We can draw on all their camp experiences and the skills they learned throughout the entire school year. They learn how to work together, how to trust their teachers, and they learn that they can do hard things. We see them do those hard things so we keep talking about it throughout the year, reminding the students about what they can do."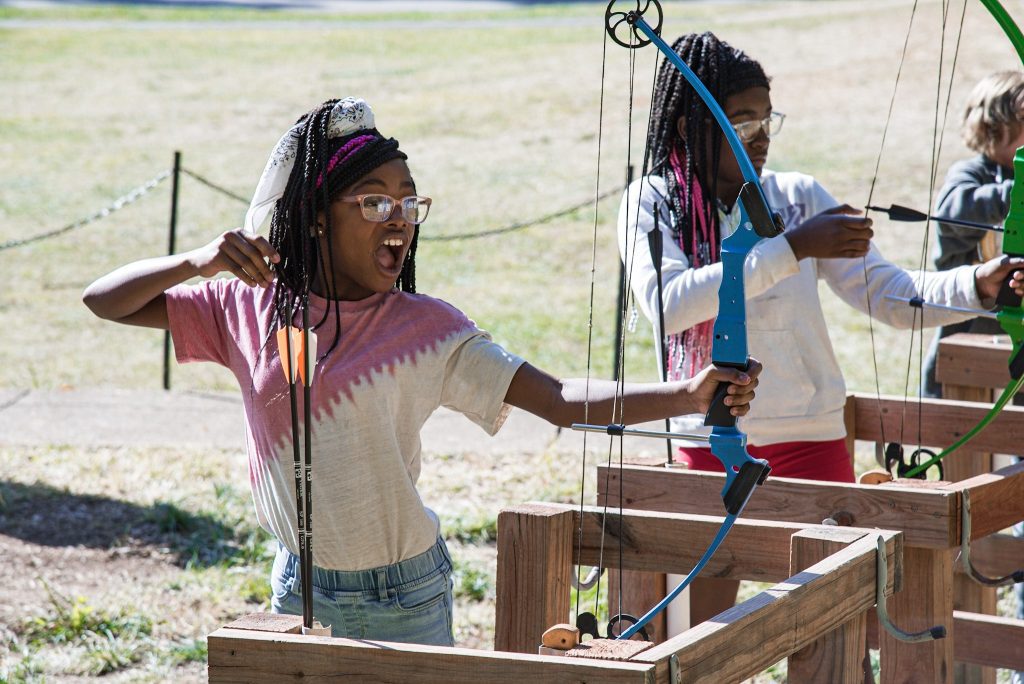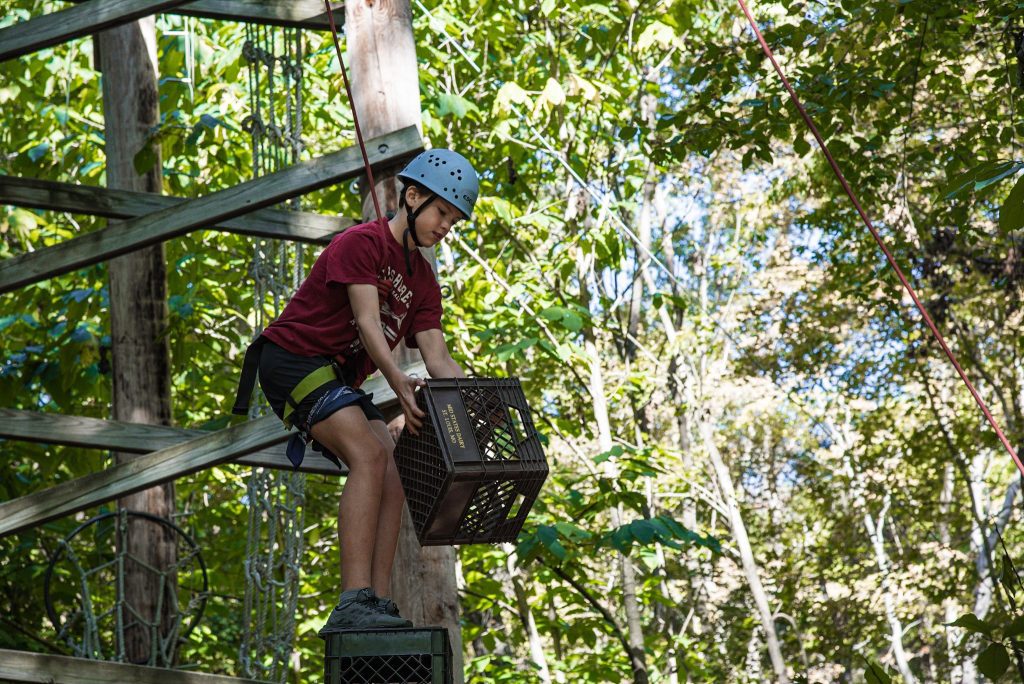 Carrying the camp tradition forward
When WGSD students move into high school, they have the option to return to Camp Wyman with the 6th graders as camp counselors to help carry the camp tradition forward. They serve as role models and help the 6th graders build connections with each other. For a lot of high schoolers, returning to camp is an easy decision. "I enjoyed camp so much as a kid, I simply had to return as a counselor when I was in high school. My love for the outdoors and fresh challenges had only grown since my first experience at Wyman, and my care for children and their experiences had developed as I grew older," says Hippo. "I remembered just how important and cool I felt as a camper to have these dedicated counselors as my friends and mentors. It boosted my confidence and made me excited to grow up and be that mentor for others."
As we look toward our 75th anniversary of partnership with the Webster Groves School District in 2023, we are excited to continue working with the district to positively impact the lives of their students. "I think the biggest impact camp has on students is giving them the opportunity to develop their confidence and leadership skills. Those students who are inclined towards leadership are given the opportunity to exercise their leadership skills, and those students who are more inclined towards assisting their group as a follower gain the confidence to speak up when they have an idea or suggestion to help the team," says Hippo.
"You're never going to get this chance again. You get one chance to go to camp as a 6th grader – keep an open mind, know that you can do hard things, and we will be by you every step of the way," ~ Kelly Williams