Social-Emotional Learning. Peer Connections. Healthy Relationships.
The Teen Connection Project™ (TCP™), Wyman's newest evidence-based program, is a highly engaging, social-emotional learning program for high school aged youth – focused on building healthy relationships and connections. The program empowers teens with the tools and opportunities to develop social-emotional skills, build healthy relationships and community connections, develop a sense of purpose, and avoid risky behaviors.
TCP is a 12-14 week program for 9th through 12th graders, offered in a variety of settings including high schools, afterschool, and community-based settings. Teens meet in small groups weekly and use a guided curriculum to interact and share in ways that improve their connections with others. Teens leave TCP with new social emotional skills that they can apply to their relationships at home, school, and within the community.
TCP is supported by evidence from a rigorous evaluation conducted by UVA, published in the journal Development and Psychopathology. The study, based on a sample of 610 high school youth, showed that TCP participation resulted in significant improvements in peer relationships, academic engagement, and use of social support to cope with stress, as well as lower levels of depressive symptoms. Read the full study here.
Between 2016 and 2022, over 600 young people participated in TCP delivered by Wyman in the St. Louis area and by our national partners in their communities. In 2021, TCP implementation was expanded to 5 new Missouri sites with a grant from the Missouri Foundation for Health.
SEL skills are a foundation to successful adolescence and adulthood, yet many teens lack healthy, positive, and affirming relationships. TCP supports teens in learning how to build healthy connections and relationships with peers and adults. The public health crisis, and the accompanying social isolation, reminds us of the critical nature of connections and the potential harm that can be done when it is absent – especially among young people. Check out this guest blog we wrote for the Susan Crown Exchange, discussing the importance of connections and how programs like the Teen Connection Project can help develop healthy connections and increase social coping and academic engagement.
View our Teen Connection Project Logic Model.
Outcomes & Impacts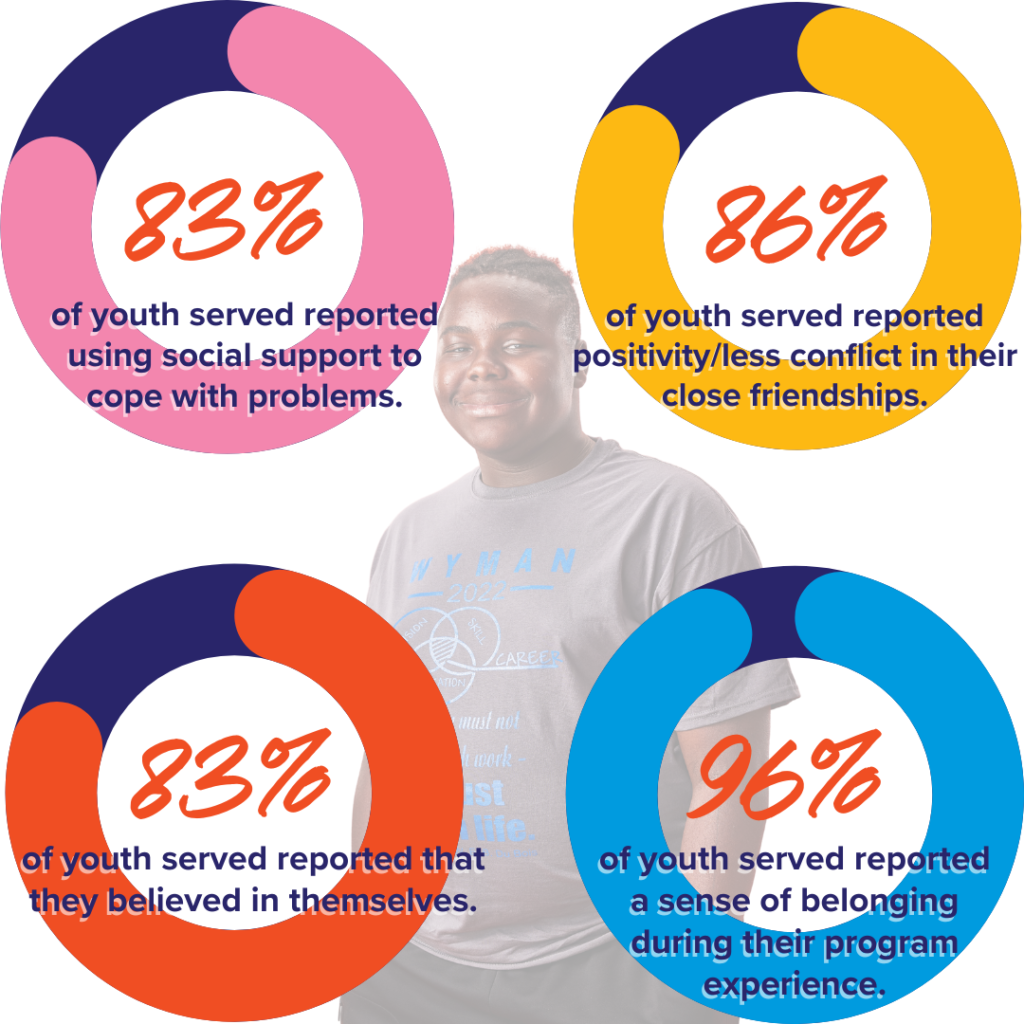 Interested in bringing TCP to your community? Visit our National Network page for information on how you can become a National Network partner.