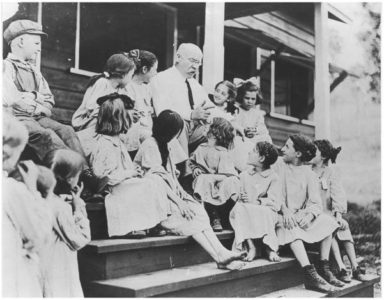 Wyman was founded in 1898 by a group of local businessmen to provide St. Louis youth time away from the city and the opportunity to experience life in a rural setting. Our camp soon attracted a great deal of attention and served as the birthplace for some of Wyman's most successful youth development approaches that are now offered to young people in St. Louis and across the country.
Wyman has gone through many evolutions and changes in its over a century of programming. The original "Frank Wyman Outing Farm" has evolved from a place to give children a week of fresh air, nourishing food, and fun, into "Camp Wyman" with a focus on outdoor and environmental education. Now, Wyman is an organization that provides year-round support and programming for St. Louis teens and teens around the country.
Wyman's continued growth and evolution has benefited from the leadership of many over the years, including Frank Wyman, Prudence and Price Tillery, Melvin and Edmonia Dillon, David Hilliard, and current President and CEO Claire Wyneken.
Through our programs, young people create consistent, positive relationships with adults who help them build life skills, develop a positive sense of self, and make healthy connections with others and the community. They become leaders, focus on the future, and give back to their communities. To learn more about our programs, please click here.
To learn more about the land Wyman is on, please view our Land Acknowledgment.