Welcome to Wyman's 125 Years, 125 Stories project! Throughout this anniversary year, we will be sharing a wide variety of stories and experiences through our 125 years of service to the young people of St. Louis and the nation.
Come back every week to read, experience, and learn something new about Wyman!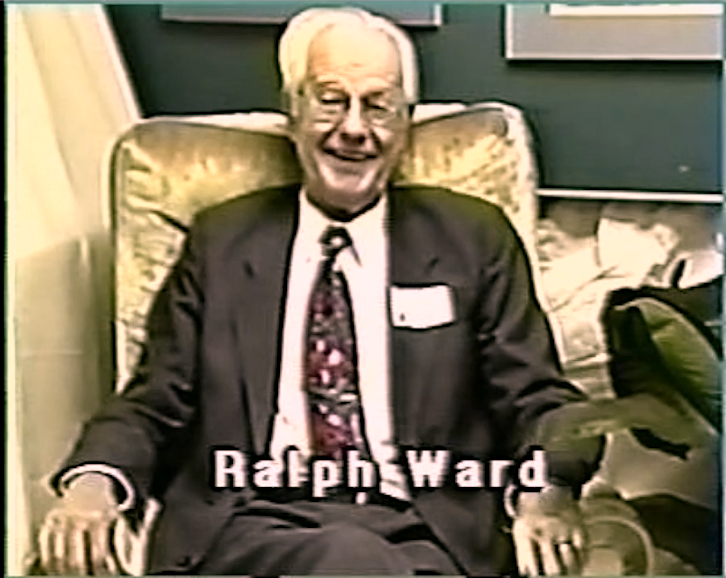 Ralph Ward
Camper, 1925 - 1928
My name is Ralph Ward, I was a camper here in 1925, late June and early July for ten days. I went to camp here in 1926 for the same amount of time. In 1927 my mother had a job as a cook in the kitchen and we stayed all summer. And in 1928 we stayed all summer.
We were brought out here by train to Eureka, put on a straight bodied truck and brought out, and assembled in the Assembly Hall. The Assembly Hall was a large building with a porch on three sides and the side that didn't have a porch on it was the walkway for the cottages. The tent faced the Assembly Hall, to the left was the boys' cottages, there were ten of them, they had space for ten campers and a mother. And on the right-hand side they had ten cabins, and they had space for ten girls and their mothers. We assembled there in the morning and then marched over to the dining hall to eat. We ate at big, long tables, and we either had oatmeal or corn flakes for breakfast. And if you wanted something more, they always gave you some bread with some syrup.
In the afternoons we always had two sessions in the swimming pool. Then we gathered at the Assembly hall in the evening and they would have some announcements and then they would have a kind of a show. In 1927 when we were here we had a very large girl counselor by the name of Mary Wickenhauser. And since we were here for all summer, every time they had a new set of campers they did Jack and the Giant killer again, and Mary would always play the part of the giant. And she turned out to be the Mary Wickes of the movies and of the TV. So that was one of the people that was a counselor that went on to be somebody else.
The years that we were here for all year they would have two and a half days, and Mr. Tillery would always gather us up, and it was only about eight or nine of us that were staying the whole summer, and he would show us around the barn. And they had ducks and they had chickens and he made sure we understood how corn grew and tomatoes grew and the potatoes grew and the carrots. Foods that city people with brick sidewalks didn't understand or didn't know.
I knew where the old Elberta peach trees were, right up behind the swimming pool, this was across the road and up the hill, and I took the girls up. And the girls those days, they got a gingham dress and gingham bloomers, with frills on the bottom. So in 1928, things were not the way they are now, and we went up there, the girls held out their dresses and we filled them with great big Elberta peaches and of course Mr. Tillery caught us right behind the swimming pool on the way back and he said, I see you found my peaches. He said, take them to Mr. Gray and we'll have peach pie for supper. 
Most of Claire Wyneken's childhood years were spent involved in Girl Scouts and the Fort Wayne Youth Theater. "These were my two great youth development experiences, and some of my best role-models for working with people and for leadership." These positive experiences led Claire to work at summer camps every summer from age 18 through college, and plan to study theater and communications. Her early college years were spent at Wittenberg University and finished at Purdue, shifting her studies to environmental geography and outdoor recreation management. 
In 1987 Claire arrived at Wyman in Eureka for a 3-month stint teaching the spring, school-based Outdoor Education Program.  After that, she was asked to stay and help run the summer program. "That was my introduction to Wyman's mission. I just completely fell in love with everything about it, with the youth, the staff, and the mission." Claire was then offered a position for that fall, running the Outdoor Education program. "And that was that. I've been here ever since."   
Claire has been involved in, and at the forefront of many programs at Wyman throughout the years, including the Sunship Earth Program, a camp for Senior Citizens, and the initial design for what is now Wyman Leaders. She has been a camp director, program designer, trainer, program director and partnership leader with area schools and agencies.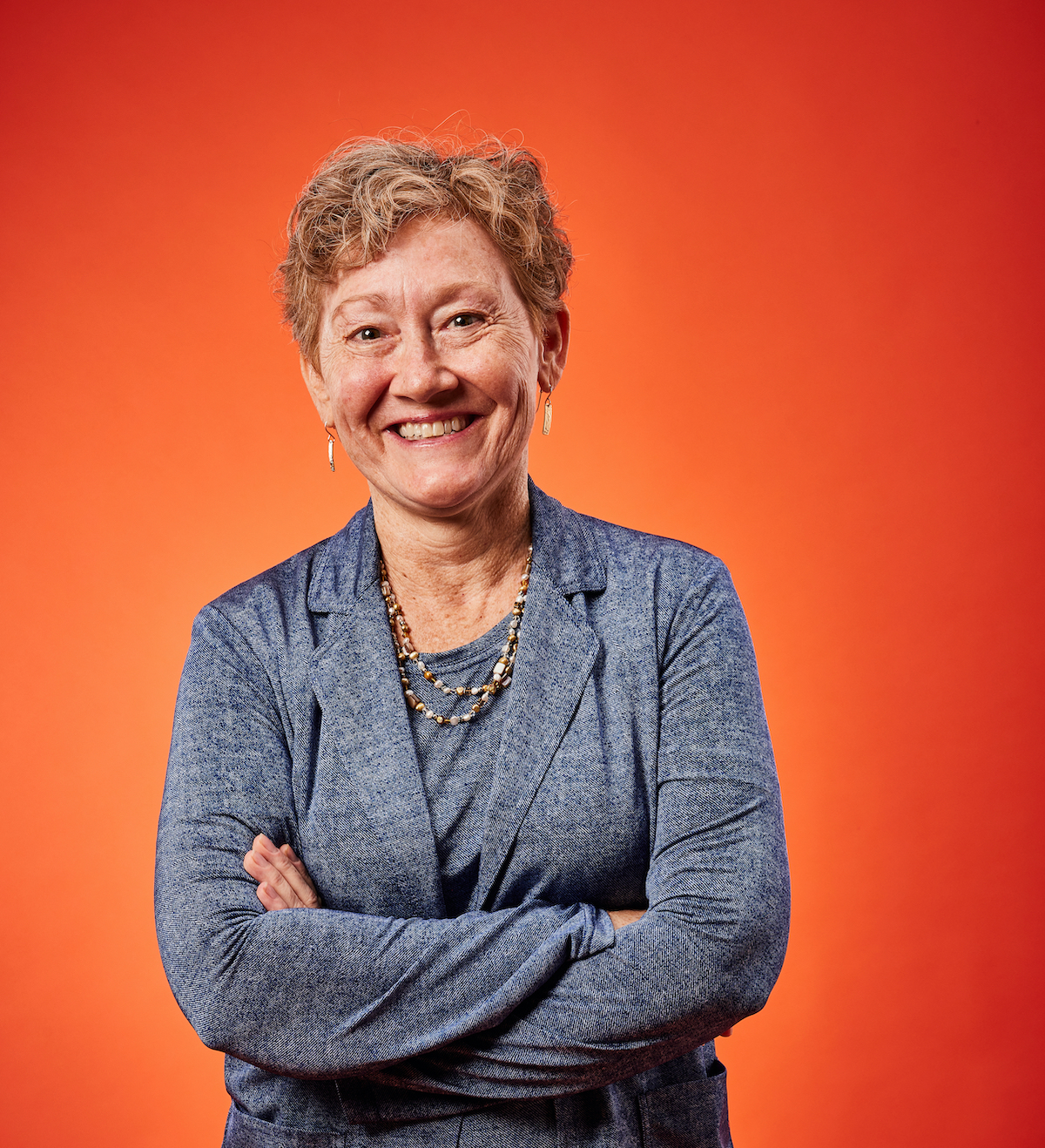 Claire Wyneken
President & CEO, Wyman Staff since 1987
"You have to bring new thinking and fresh, different perspectives if you're going to make this community what it really can be. And that's a community where everybody has what they need, is able to contribute through their strengths and everybody has an equitable chance to win."

Claire designed the Camp Caravan Program, which brought formative camp experiences out of Eureka and directly to many students in the region. "We developed a whole program that included environmental science, social emotional learning activities, conflict management, and team building. We outfitted a box truck and created a mobile camp. We went around to schools and neighborhoods and set up camp, running all kinds of programs throughout the region for years."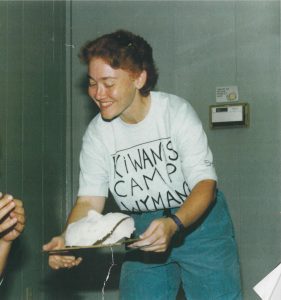 One of Claire's largest contributions to the organization was recognizing the importance of, and securing, the Teen Outreach Program® (TOP®) curriculum. Claire worked as a facilitator and trainer for TOP around the country, and when the curriculum came up for sale, Claire knew Wyman needed to acquire it. What struck Claire about TOP from the beginning was the way she saw young people engage with it. "It was so centered on them, on things that matter to young people. Not things that adults want to matter to young people, but what teens yearn to talk about and work out. There was a lot of attention on creating a strong bond in each group, which was very aligned with how we lead and influence the environment. The other thing I saw is that every staff member that we trained in TOP at Wyman grew in their professional practice. They went from a teaching mode to being great facilitators getting at what youth development truly is. Which is centering on the young person and their developmental needs and helping them to identify and leverage their strengths."
Claire has had many moments in her journey where she could have chosen a different path, but she always chose to stay with the organization and the St. Louis region. She saw a bigger, more impactful future for Wyman and was an immense part of bringing those changes into the organization. "You have to bring new thinking and fresh, different perspectives if you're going to make this community what it really can be. And that's a community where everybody has what they need, is able to contribute through their strengths and everybody has an equitable chance to win."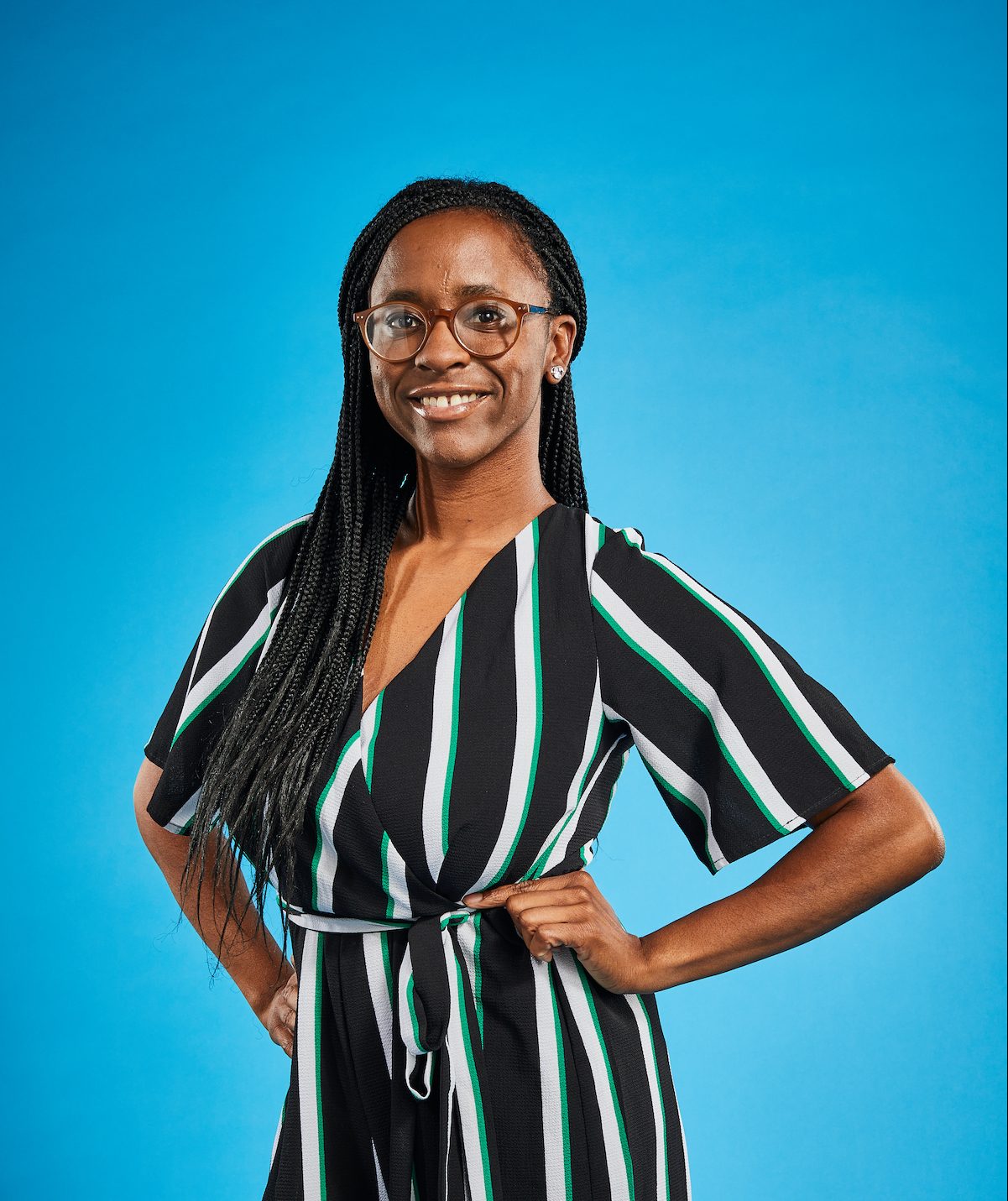 Brandi Higgins
Wyman Leaders Class of 2013, Former H.S. Success Coach
"I am hoping that my impact is to build meaningful relationships with teens who know that I'm here to support them in any capacity they need. That they know I truly am a champion for their success, whatever that may look like."

Brandi Higgins has been involved with Wyman since 2008, participating in Wyman Leaders and spending three summers as a camp counselor before becoming a full-time staff member for two years on the Wyman Leaders team.
She remembers her time at camp being full of new experiences, challenges, and growth. "Everything wasn't sunshine and daisies. You think about those hard moments, those moments of conflict with other teens or challenging moments when you are met with conflict. But if I could do it all over again I would. I'm grateful for those opportunities and experiences because they impacted the person that I am today. 
You think about those experiences and how intentional they were when creating programming. You don't think there's any rhyme or reason to throwing you in this canoe with another kid, but you were in there to practice critical thinking and effective communication." 
In 2019, Brandi graduated from Missouri State University (MSU) with a degree in Child and Family Development and an emphasis on youth development. She is currently about to finish an MED in higher education at the University of Missouri St. Louis (UMSL). Brandi credits her experiences with Wyman for the path her career has taken. "My journey was unique and it came with its own sets of challenges. I went to college as a cellular and molecular biology major, but it wasn't for me. Looking back, the supportive relationship that I had with my Wyman coach really helped me understand what I wanted. I like impacting my community and I always knew I wanted to work with people. I knew this is what I wanted to do; I wanted to continue working with youth."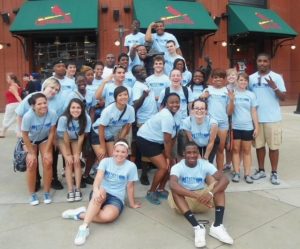 She knows how important it can be for teens to have a support system outside of their homes to help them navigate adolescence. "Having a trusting, supportive relationship with my coach – someone who helped me discover who I am and who understood what it was like to be a first-generation college student – was incredible. Through my work, I hope that I am able to impact just one student; to be able to build even just one meaningful relationship with a teen who knows that I'm here to support them in any capacity that they need, and knows I truly am a champion for their success in whatever that may look like. Because I know how important and transformational that can be." 
"To me, Wyman is magical. Maybe because I've spent so much of my life here, but to be able to come back and see teens have the same experiences I had is such an amazing feeling." 
Frank Wyman was born in St. Louis, Missouri on July 25, 1850. A prominent businessman in the area, he held such distinctions as the President of both Silverine Co. of St. Louis, and Scott Drill Co. In 1904, President Teddy Roosevelt appointed him as Postmaster of the City of St. Louis, a post which he would hold until 1909.
In 1901, Frank Wyman was elected as the third President of the Wyman Board of Directors. He is remembered as one of the earliest supporters and champions of the organization because of his impressive fundraising efforts. He secured countless donations which played a large part in keeping the original farm operative.
Frank Wyman appealed to potential donors through form letters which depicted the success of the camp, the great value the experience held for the children, and the significant benefits that donations would produce. Wyman was also careful to stay in touch with past supporters to insure their continued support. Another method he employed to raise money for the camp was newspaper advertising. Such advertising included information about the camp, photos of camp life, and testimonials from the children. Readers were encouraged to donate just ten dollars which would allow one child to attend camp.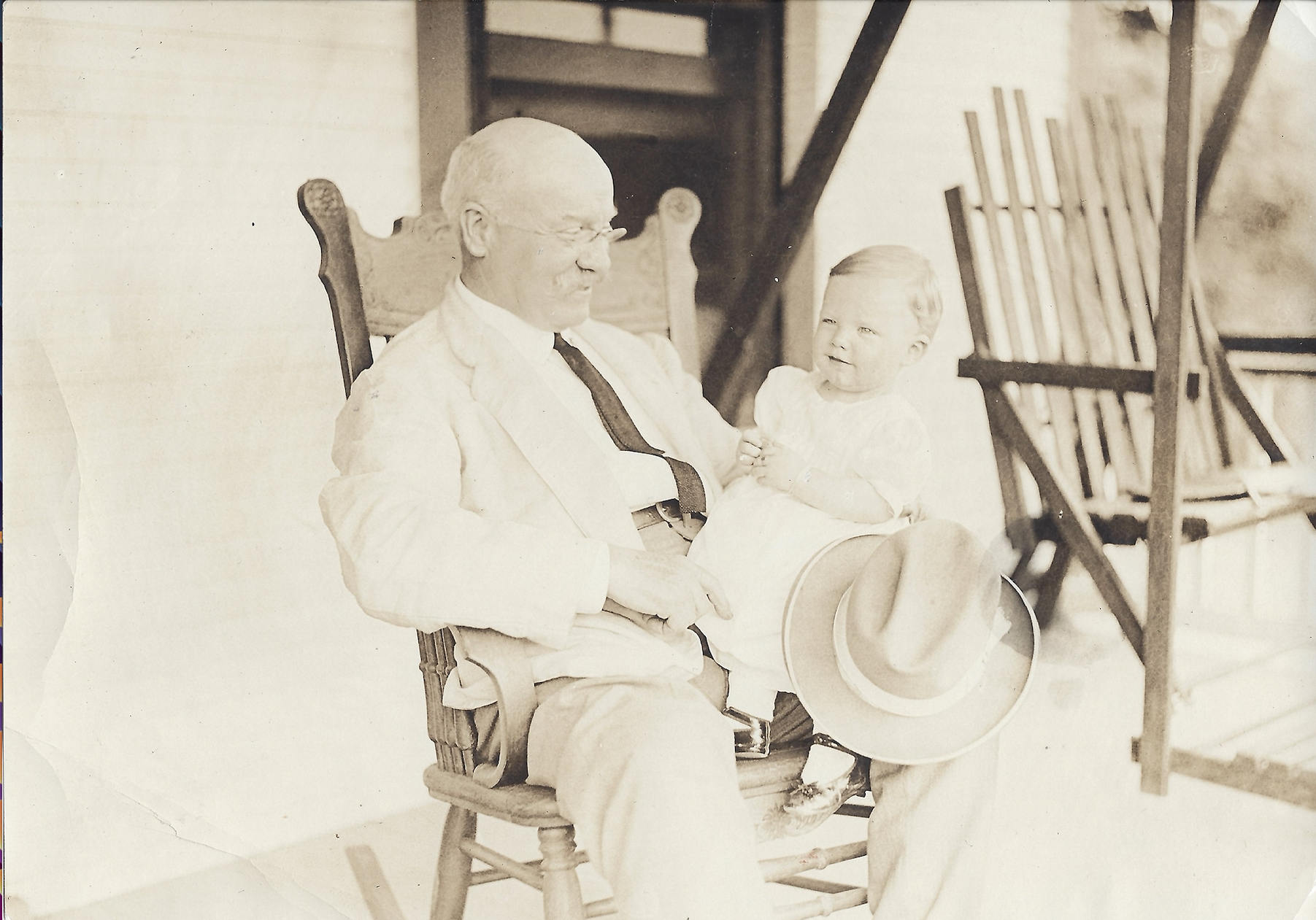 Frank Wyman
President, 1901 - 1924
Third president of Wyman and one of the earliest supporters and fundraising champions of the organization.

Frank Wyman was very active in the project of purchasing the camp's rented farm acreage from Dr. Monroe. In 1910, Wyman solicited a local land baron, Peyton Carr, to help raise funds to buy the land. Carr agreed to pay half of the cost if Wyman raised the rest. Wyman quickly raised his share and the 80-acre farm was purchased that same year for $3,500.
Many visitors probably remember the original row cabins that housed campers up until the 1990s. In 1915, Wyman undertook a campaign to build permanent structures at the camp, including the original sixteen cottages. Several buildings from the 1904 World's Fair in St. Louis were also purchased and moved to the property.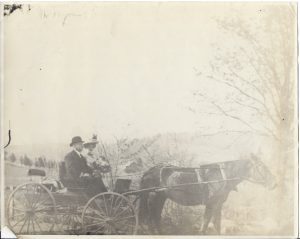 In the absence of a regular system of support, the presence of Frank Wyman was vital. The effect of his constant and extensive fund-raising efforts was to assure a steady flow of operating funds. Had he not been interested, the camp might very well have been forced to close.
Over the years he gave much time and effort to the farm and encouraged many other people to do the same. He often visited and enjoyed spending time with the campers. In 1922 the name of the camp was changed to The Frank Wyman Outing Farm in tribute to the man who took such an active part in raising money for the property and the young people it served.
PREVIOUS STORIES