We are incredibly honored and proud to announce that our Teen Connection Project (TCP) was selected as a 2021 FOCUS St. Louis What's Right With the Region honoree!
TCP was chosen for demonstrating innovation and vision in making the St. Louis region a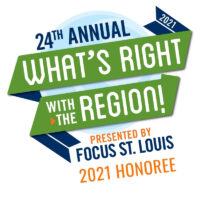 better place to live, work, or visit; and will be honored at the 24th Annual What's Right With the Region Awards Celebration on May 13th.
The Teen Connection Project was developed through a research and practice partnership between Dr. Joseph Allen at the University of Virginia and Wyman. TCP is designed to improve peer relationships, social-emotional skills, school engagement, and well-being among high school aged youth.
TCP is a semester-long program and serves teens from 9th through 12th grade. Teens meet in small groups weekly and use a guided curriculum to build positive relationships with peers and adults, and then share what they have learned within their schools, homes, and communities.