Today, Wyman's Board of Trustees announced a transition of leadership in both the President & CEO role, as well as the role of Board Chair.
Claire Wyneken, Wyman's President & CEO, announced her transition to retirement, after nearly 37 years of service to Wyman and the young people it serves. The Board has chosen Allison Williams, MSW, LCSW, currently Senior Vice President, National Network & Strategic Initiatives, to assume the CEO role beginning next month. Williams has been with Wyman for more than 24 years.
Additionally, Jaylen Bledsoe was elected as the next Chair of Wyman's Board, a role which will begin in January 2024. Bledsoe is the first Wyman Leaders participant to hold the role of Board Chair. He will succeed current Wyman Board President Amy Berg, whose term ends this year.
Learn more about Wyman's leadership below.

Claire Wyneken
Outgoing President and CEO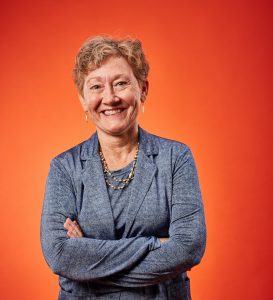 Most of Claire Wyneken's childhood years were spent involved in Girl Scouts and the Fort Wayne Youth Theater. "These were my two great youth development experiences, and some of my best role-models for working with people and for leadership." These positive experiences led Claire to work at summer camps every summer from age 18 through college, and plan to study theater and communications. Her early college years were spent at Wittenberg University and finished at Purdue, shifting her studies to environmental geography and outdoor recreation management.
In 1987 Claire arrived at Wyman in Eureka for a 3-month stint teaching the spring, school-based Outdoor Education Program. After that, she was asked to stay and help run the summer program. "That was my introduction to Wyman's mission. I just completely fell in love with everything about it, with the youth, the staff, and the mission." Claire was then offered a position for that fall, running the Outdoor Education program. "And that was that. I've been here ever since."
Claire has been involved in, and at the forefront of many programs at Wyman throughout the years, including the Sunship Earth Program, a camp for Senior Citizens, and the initial design for what is now Wyman Leaders. She has been a camp director, program designer, trainer, program director and partnership leader with area schools and agencies.
Claire designed the Camp Caravan Program, which brought formative camp experiences out of Eureka and directly to many students in the region. "We developed a whole program that included environmental science, social emotional learning activities, conflict management, and team building. We outfitted a box truck and created a mobile camp. We went around to schools and neighborhoods and set up camp, running all kinds of programs throughout the region for years."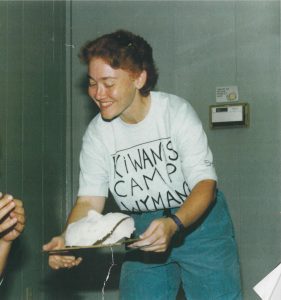 One of Claire's largest contributions to the organization was recognizing the importance of, and securing, the Teen Outreach Program® (TOP®) curriculum. Claire worked as a facilitator and trainer for TOP around the country, and when the curriculum came up for sale, Claire knew Wyman needed to acquire it. What struck Claire about TOP from the beginning was the way she saw young people engage with it. "It was so centered on them, on things that matter to young people. Not things that adults want to matter to young people, but what teens yearn to talk about and work out. There was a lot of attention on creating a strong bond in each group, which was very aligned with how we lead and influence the environment. The other thing I saw is that every staff member that we trained in TOP at Wyman grew in their professional practice. They went from a teaching mode to being great facilitators getting at what youth development truly is. Which is centering on the young person and their developmental needs and helping them to identify and leverage their strengths."
Claire has had many moments in her journey where she could have chosen a different path, but she always chose to stay with the organization and the St. Louis region. She saw a bigger, more impactful future for Wyman and was an immense part of bringing those changes into the organization. "You have to bring new thinking and fresh, different perspectives if you're going to make this community what it really can be. And that's a community where everybody has what they need, is able to contribute through their strengths and everybody has an equitable chance to win."
Claire holds a Bachelor of Arts degree from Purdue University and a Master's in Leadership and Organizational Development from Saint Louis University. She has served on many boards and advisory councils and is an alumnus of the National Conference for Community & Justice – Dismantling Racism Institute (1997), CORO Women in Leadership (1998), Leadership St. Louis (2002).
Allison Williams
Incoming President and CEO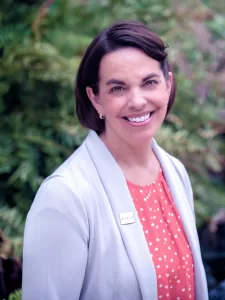 Allison William's Wyman journey began when she was in St. Louis University's undergraduate social work program. "I was looking for employment with young people for the coming summer. One of my friends, a woman named Julie (Tellez) Cleveland, had worked at Wyman in 1992 and suggested I try it." She ended up spending that summer at Wyman, working with teens in the Morning Star program. "I had never started a fire before, never set up a tent. And this was all an adventure-based program. I had to learn how to canoe, how to cave, and how to run a high challenge course. And use these activities to create amazing camp experiences for young people. But it was wonderful. It really clarified for me the amazing growth that can happen when you set up the right kinds of supports and opportunities for young people."
After that first summer, Allison returned to Wyman as Assistant Director of Summer Camps. But not long after she moved to Boston to get her graduate degree in social work. She remained there for several years, working in children's residential treatment. "The experience solidified that I wanted to do proactive work – getting into the side of the work where we are pouring into young people to build their skills and help them create the opportunities for themselves. So, I called Claire up to see what possibilities were at Wyman, and made the decision to come back in 1999."
Since returning to Wyman, Allison has held many more positions in program development and implementation. "I laugh that I've probably had 13 different roles since then. I've been fortunate that with Wyman, there was always the next challenge, the next opportunity." She helped direct Wyman's first foray into program evaluation, and documenting outcome and impact. She then went on to support the Community Connections team in the Near South Side of St. Louis City, and was part of the team that developed what is now Wyman Leaders.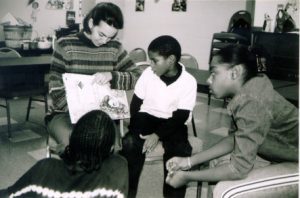 And in 2009, Allison was a part of launching Wyman's National Network. "We knew that Wyman could only impact so many youth in our direct service programs. But we were great trainers and had this wonderful evidence-based program in the Teen Outreach Program. We wanted to use that to support other organizations who were doing similar work with young people, and expand our impact by scaling the program through partnerships."
Allison's early experiences at Camp Wyman continue to hold a special place in her heart – and it's where she met her husband, Kevin, working as camp counselors together. "I had never experienced another place as impactful and special. A place where I know so many people have life changing experiences. It is the place where the sense of belonging and community and connection and caring and relationships that carry across all Wyman programs started."
Currently, Allison is the Senior Vice President, National Network & Strategic Initiatives and will transition into the role of CEO in October 2023. Allison earned a Bachelor's degree from Saint Louis University and a Master's degree from Boston College, both in social work, and holds a Missouri Clinical Social Worker license. She is a graduate of Leadership St. Louis, the Institute for Dismantling Racism, and the Non-Profit Services Consortium Women's Leadership Academy. Additionally, she served a co-chair for the St. Louis Graduates steering committee for five years, maintaining a community-wide focus on decreasing degree completion disparities for students who were low income, and Black students.
Jaylen Bledsoe
Incoming Board Chair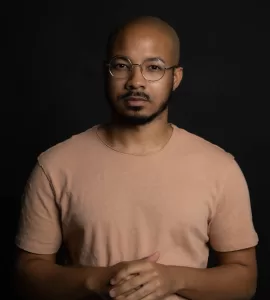 Jaylen was introduced to Wyman as a student when he was nominated by his school to join what is now Wyman Leaders. "When you learn about Wyman, you're instantly hit with 'leadership' and 'camp'. As a young person hearing about the programs, that combination is pretty exciting. Looking back from this perspective of what I've learned, it wasn't just about the camp songs and hiking. It was how Wyman used that location to build young people like myself through a really intentional social and emotional lens. It's this unique combo that allows Wyman to make a real difference for so many young people in St. Louis and across the country."
When Jaylen joined Wyman Leaders, he was balancing not only school but his business as well, which he started when he was 12 years old. His experience in Wyman Leaders helped him leave his comfort zone and learn how to establish relationships which has helped him in business spaces. "With Wyman, there is a requirement to step out of the comfort zone and talk to people and understand how to build relationships. So I learned through Wyman Leaders how to go out and approach people; how to have a conversation; how to get to know someone – and really care about getting to know them. As I went beyond Wyman Leaders and into business spaces, one of the most important things we can do as entrepreneurs, as leaders is to be able to establish relationships by stepping outside of my comfort zone to start a conversation."
In 2021, Jaylen was elected to the Board of Trustees and during his time on the Board has served on multiple committees and is one of the co-founders of Wyman's Young Professionals Network. "I think for me it really comes down to Wyman has been an incredible part of my life and an incredible part of many of my friends lives and their development as adults who can give back to their community. Wyman is a family, and most importantly Wyman is sticky. Whether you're serving on the board, on the staff, or as a camp counselor you're going to come back to Wyman because of the impact that it's had on you and your family."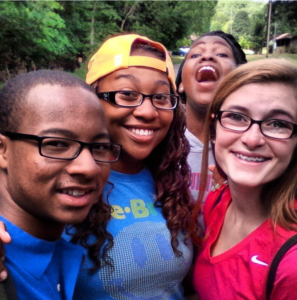 Today, at the age of 25, Jaylen D. Bledsoe serves as the Chairman of the Bledsoe Collective, Inc. and the Managing Director of Flare Partners. Through his work with Flare Partners, Jaylen has played a pivotal role in driving over $4B in new client revenue and overseeing more than $10B in client P&Ls. Their esteemed client roster boasts names like AT&T, Ford Motor Company, Steve Harvey, Jordin Sparks, and NBCUniversal. In addition to this, Jaylen has been a member of AT&T's Supplier Diversity Board, provided advice to White House officials during President Obama's Administration on economic policies that impact small businesses, and held board positions with several non-profit organizations. His prior board service includes the Mathews-Dickey Boys' & Girls' Club, the Biome School, Multitasking Hearts Corp, Breach, Jordin Sparks' The M.A.D. Girls, Inc., and, notably, as the former Board Chair of the National Youth Rights Association.