Missouri State University has announced that their partnership with Wyman has resulted in higher grade point averages for students within the partnership than national averages.
MSU and Wyman marked the 10th anniversary of their partnership Thursday with an event honoring students and recognizing staff and investors in the program. The partnership works with low-income, first-generation college students from impoverished areas.
"We understand the critical importance of ensuring the retention and success of all who enter our university, especially our low-income, first-generation college students of color," MSU President Clif Smart said in a statement. "They are the reason we entered into this partnership 10 years ago. And they are also the reason we are gathered to celebrate their academic achievements and those who work to make their success possible."
MSU reported that 63 students from the St. Louis region have attended the school through the partnership in the last decade with 83 percent either having graduated or on track for a degree. The 22 students who have graduated averaged 4.5 years for their degree.
By comparison, the national average shows only 26 percent of students from the families in the lowest 25% of income obtain a bachelor's degree or higher within 5 or 6 years of enrollment.
The report also showed that Wyman students at MSU maintained higher GPAs and retention rates than their peers.
The Wyman partnership provides coaching to the student's families to help them prepare for the college experience, identify their strengths, talents and interests and place them on a college path that lines up with the best chance for them to succeed.
MSU has even developed a "Wyman Club" on campus for the students to come together to assist and encourage each other through their time at Missouri State.
"In order to ensure educational equity for all students – where outcomes are not predicted by race or economic circumstances – institutions must commit to working seamlessly to support students and eliminate barriers," Wyman President and CEO Claire Wyneken said. "Wyman and Missouri State staff work in partnership on a daily basis, student-by-student, to ensure they are empowered to succeed on their higher education journeys."
Wyman also announced that a record-high of 35 of 92 high school seniors in their leadership program have chosen to apply to Missouri State for fall 2019.
Below are the stories of some of the Wyman Scholars, courtesy of Missouri State University.
Kendrick Hooks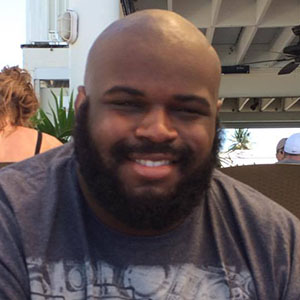 Being 13 is tough. Losing his dad to cancer made it even more difficult for Kendrick Hooks.
"Back then, I was just trying to find who I was as a person," says Kendrick, recalling his first year in Wyman's leadership program.
Today, Kendrick teaches speech, debate and theater in St. Louis' Riverview Gardens High School. He remains involved with Wyman, sharing the lessons he learned with the teens in his life now.
"Wyman will always be an integral part of my life, and I will always be a huge supporter of Wyman," Kendrick says.
Being a middle schooler in St. Louis' Hazelwood School District was still rough, even with support from Wyman.
"My first year at Wyman, I'm not going to lie, it was pretty rough because it was something completely out of my norm," Kendrick says. But a coach persuaded him to stick it out. "He taught me to go back and keep doing this. Don't give up."
Kendrick persevered, becoming a Wyman Scholar at Missouri State University, where he earned his bachelor's degree in 2017.
While at MSU, Kendrick worked seasonally as a Wyman coach on outdoor education trips, which helped him prepare for teaching.
"It's really hard to put into words how Wyman has made such a huge impact on me. It's not just through the scholarship, but also as a person, as a human being. It's been so intertwined with my own life," Kendrick says.
Kendrick hopes he can nurture the same team-building, leadership and conflict-resolution skills he learned in Wyman's leadership program and be a strong black male role model for his students.
"I hope to be a successful teacher, and by successful I mean having successful programming and impacting young people wherever I go and wherever I teach."
Savannah "Sami" Martin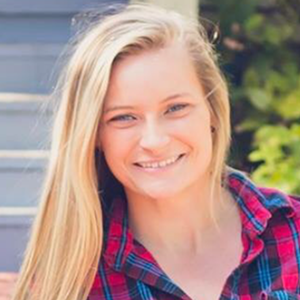 When a teacher suggested Savannah "Sami" Martin apply for the Wyman leadership program, she and her family had reservations.
Sami did some research and agreed to give it a shot. That decision in seventh grade changed the entire trajectory of her life, she says.
Taking part in Wyman's three- to four-week summer camps thrust her into situations that gave her the skills she needed to thrive. Her Wyman counselors walked with her through those turbulent teen years and remained by her side throughout her college career.
"I really would not be where I am without Wyman," Sami says. "I never would have thought I could go to college — no one in my family did. I never thought I was smart enough to go to college so far away."
Through Wyman, Sami says she got the support and guidance she needed when she needed it.
"At 12, I was looking for a friend, and — bam! — they gave me that. When I was in high school, I wanted something more than the opportunities my parents had, maybe go to community college. Wyman said, 'That's not a bad option, but that's not the only option that you have,'" Sami recalls.
Wyman counselors coached her through three rounds of SATs, assisted with applications to a variety of colleges and took her on a 10-day trip to tour about a dozen colleges in three states. It was a Wyman counselor who encouraged her to apply to Missouri State University — a move that put Sami on the path to the teaching career she now enjoys.
"I feel like she dropped magic into my lap when she dropped that application on me," Sami says.
Sami was awarded a four-year, full-ride Wyman Scholarship to MSU, where she earned her bachelor's in education. Today, she teaches fourth-graders at Union Middle School, just down the road from where she attended middle school in Washington, Mo.
"I think they really throw the world at you, and they really say it doesn't matter where you're from. If you put the effort in, there are people who will help you," Sami says. "No matter how many times you get knocked down, reach out and we'll help you."
Amaris Clay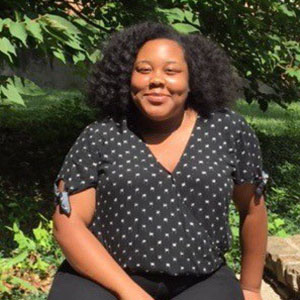 Amaris Clay grew up knowing she wanted to go to college. The question was how she would get there.
The answer arrived in her seventh-grade year, when she was nominated for Wyman's leadership program.
Amaris grew up the second of two children in a two-parent household. "From their point of view, they were successful. They had a good life, had a house and happy, healthy children," she says.
But money was always a struggle and no one in her family had been to college.
Through Wyman, Amaris acquired the skills necessary to succeed not only in post-secondary studies, but also in life.
"My support systems have been everything for me," she says. "I'm a first-generation student. My parents just didn't have that opportunity. I knew at a young age I had to do things differently."
Wyman's leadership program took her from Ritenour High School in St. Louis to Missouri State University in Springfield. Her Wyman college coach helped her with practical issues, such as financial aid forms, as well as the less tangible, yet crucial, areas, such defusing emotionally fraught situations.
"From Wyman, I'm not afraid to speak up for myself. I'm not afraid to speak up for others, either. I think overall, I'm a braver and bolder person than I was before going into the program," Amaris says.
Amaris graduates in May with a bachelor's in psychology and a minor in sociology. She's already applied for graduate school programs and is trying to figure out a career path.
"I cannot stress enough that without my experiences through Wyman, I would not be who I am today. I would be a different person. I don't know who it would be, but it would not be the Amaris Clay you're speaking with."
Andre McIntyre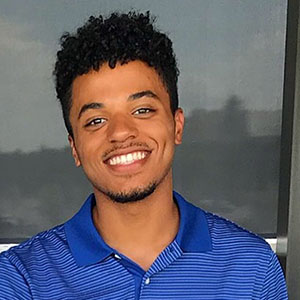 Andre McIntyre grew up knowing about Wyman. Like many St. Louis area youth, his mom attended "Camp Wyman" when she was young.
Andre thought of it as a typical summer camp that allowed kids to escape the city and their parents for a while.
That perception changed dramatically in Andre's seventh-grade year at Ridgewood Middle School, in Arnold, Mo., when he was accepted to Wyman's leadership program. Not only did it change his understanding of Wyman – it began to awaken him to the possibilities available to him.
"I was totally clueless. It's funny to look back on now. I had no aspiration to go to college, but I also didn't know how," Andre says.
The concept of college was foreign to Andre. No one in his family had attended. His mom earned her GED after dropping out of high school, and college wasn't talked about much among his friends. Andre couldn't even see what life after high school looked like, he says now.
His Wyman counselors changed all of that. They related with him every step of their journeys and showed him how to envision and achieve his greatest dreams.
"They showed me that college is a possibility for me. I'm not excluded because of any other circumstances I am in," Andre says. "I am capable, and I am able to do this."
Andre will graduate from Missouri State University in May with a bachelor's degree in criminology. He credits his coaches and the preparation he got as part of Wyman's leadership program for wrapping up his degree in a swift eight semesters.
"They are always reminding me to always be moving forward in some way and always supporting me," Andre says.
Andre isn't sure where the future might take him — perhaps a career in law enforcement, or maybe he'll be called to the ministry.
"I just hope that in whatever area of work or wherever I wind up going, I'm able to constantly be growing and learning more and finding that flow where I really enjoy what I'm doing and feel that what I'm doing matters," he says.
DeAntra "Shae" Darough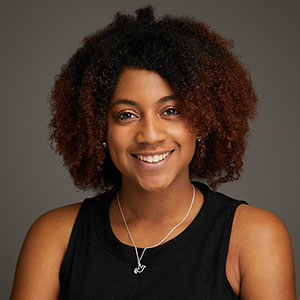 DeAntra "Shae" Darough continues to be high energy, but she's learned to harness her power to be more thoughtful, measured and to lead with confidence.
"A lot of my peers would say I became a different person," Shae says. "Going into it, I was seen as this aggressive person that was over the top. I'm not that person anymore. I've matured and come into my own."
Shae grew up in Cahokia, Ill., and entered Wyman's leadership program in 2008 as an eighth-grader.
"It helped me prepare for things I wasn't quite ready for, to be more open-minded," Shae says. "I wouldn't be taking the chances I am now."
As Shae worked her way through Cahokia High School and the Illinois Mathematics and Science Academy, Wyman was there, helping her to develop healthy behaviors and the confidence to see her self as a leader.
Her counselor also was there as she felt her way through freshman year at Missouri State University. Shae says her grades weren't the best that first year. Her counselor helped her to successfully build strong relationships with her professors, and Shae's GPA rose to 4.0 her sophomore year.
"They call and check up on us and make us feel like we matter in this world when we may think no one else in this world cares about us," Shae says.
Shae will graduate in May with a master's in Healthcare Administration. In addition to being a Wyman Scholar, she's one of six students to receive a 2018 Citizen Scholar Award by the university's Board of Governors for outstanding accomplishments and strength of character.
Shae's not sure where the future will lead, but she has established her definition of success.
"I want to make an impact on someone," she says. "If I make an impact on just one person's life, I think I will be a success."
http://ozarksindependent.com/2019/02/14/positive-results-mark-10-year-partnership-between-missouri-state-wyman/