Wyman and Missouri State University Partnership Expands
SPRINGFIELD — The partnership between Missouri State University and Wyman continues to expand and encourages more students to further their education. Now, all Wyman Leaders students who apply for the Wyman-Morley Scholarship will automatically qualify for the new Missouri State/Wyman Freshman Scholarship.
To receive the Missouri State/Wyman Freshman Scholarship (valued at $2,000 annually), students must be:
An active member of Wyman during their senior year of high school.
An active member of Wyman for at least one year.
In good standing with Wyman as of the date of nomination.
Nominated by Wyman.
Qualify for admission to MSU and enroll as full-time students the year they graduate from high school.
Have not received another MSU scholarship of equal or greater value.
"One of our main goals is to continue to make Missouri State accessible to all, and this is one way to achieve that," said MSU President Clif Smart. "This expansion will open the door for more students to believe in their dreams and know that their college goals are possible."
The Missouri State/Wyman-Morley Scholarship
Over the past 12 years, the Missouri State/Wyman-Morley Scholarship has enabled 26 deserving students to graduate with bachelor's degrees with minimal to no debt.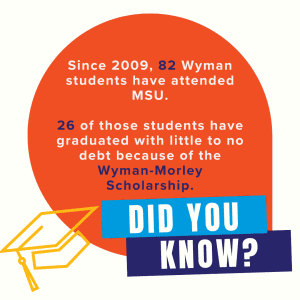 Each year, the Wyman-Morley Scholarship is awarded to two students.
The scholarship covers in-state tuition, student services fee, course fees, and room and board for the fall and spring semesters.
To earn the scholarship, students must:
CTA: Complete your FAFSA: https://studentaid.gov/h/apply-for-aid/fafsa
To keep the scholarship, students must remain an active member in good standing of Wyman.
Retaining students
To show Wyman's and the university's full commitment to supporting students through their college careers, both scholarships can be renewed for three years.
Through this partnership, many first-generation students have been set up for success.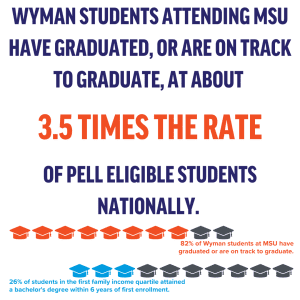 "We're enormously grateful for this enduring and successful partnership and celebrate its expansion to more students," said Wyman's President Claire Wyneken.
A study conducted by the EJournal of Public Affairs, showed that Wyman Leaders program combined with MSU resulted in higher GPA's and retention rates.
#
About Missouri State University
Missouri State University is a public, comprehensive university system with a mission in public affairs. Our purpose is to develop fully educated persons with a focus on ethical leadership, cultural competence and community engagement.
For more information about MSU, visit www.missouristate.edu. You can also find us on Facebook, follow us on Twitter and see what's happening on YouTube. Receive notification of Missouri State news releases as soon as they are posted by subscribing to our news blog.
About Wyman
Wyman is a St. Louis-based nonprofit organization with a national impact. Wyman develops and delivers evidence-based, youth-centered programming that includes opportunities for community service; social, emotional, academic, and leadership skill building; postsecondary access and support; and team and relationship building at camp. Nationally, Wyman partners with organizations and schools in over 30 states, training and guiding partners to deliver Wyman's programs to teens in their communities. For more information about Wyman, visit www.wymancenter.org.