Is your organization focused on improving mental health for high schoolers?
Through the generous support of an anonymous funder, Wyman actively seeks to build a coalition of community-based organization to bring the Teen Connection Project (TCP) to high school students in the St. Louis Metro. Wyman is able to launch five new partners to replicate Teen Connection Project; this opportunity enables organizations to start-up the program and become replication partners at an extremely subsidized cost! Partnership includes training, curriculum, on-going support, and evaluation to partners interested in implementing TCP, as well as the opportunity to connect with and learn from others utilizing the program.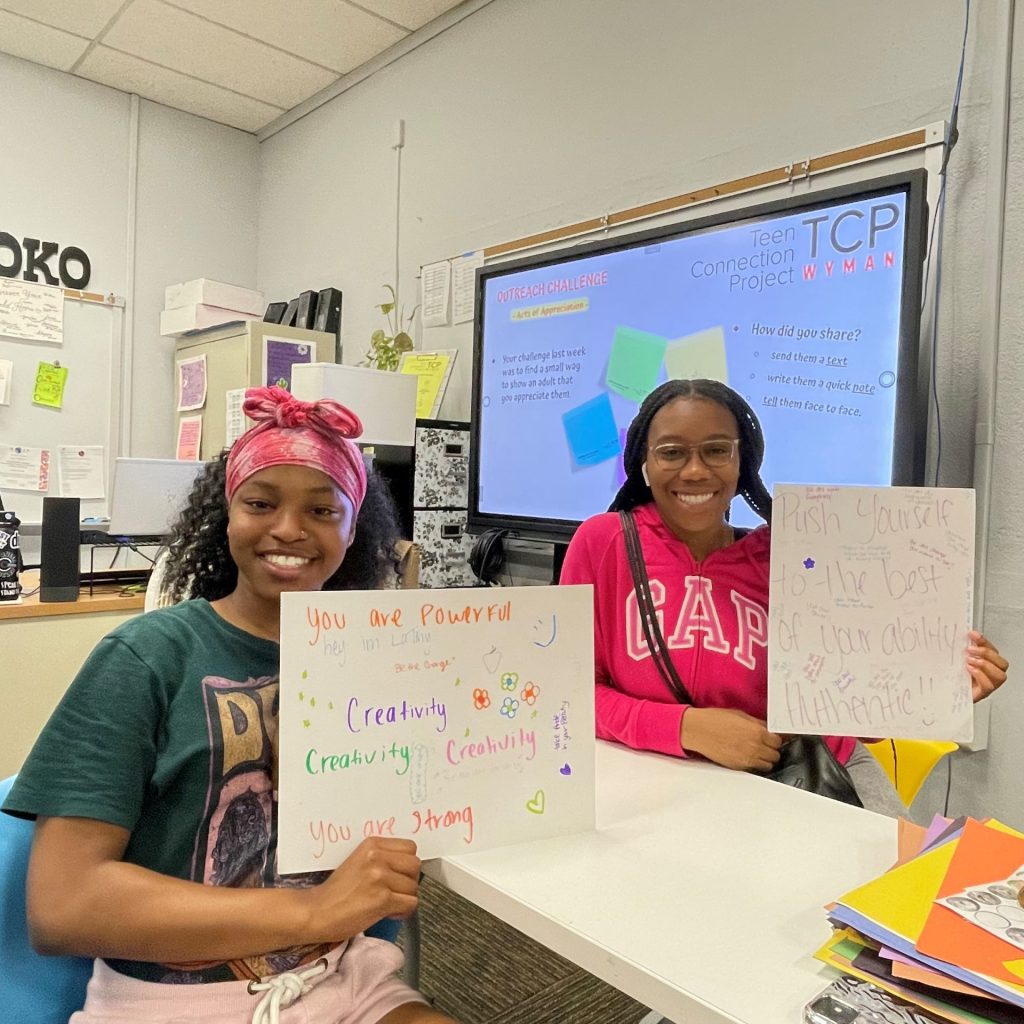 What is TCP?
TCP is a turn-key, sequenced curriculum of 12 interactive group lessons on topics including communication, conflict, trust, vulnerability, giving and getting support, and recognizing strengths. The program is delivered through a small group experience with strong adult facilitation.
TCP is used with high school students in a variety of settings, including in and out of schools. Through the progression of lessons, along with group discussions led by trained facilitators, teens learn to interact, share, and improve connections with others.
Establishing supportive relationships with peers is one of the strongest mechanisms to build social emotional skills in teens. Teens leave TCP with new skills they apply to relationships outside of the program. Research and evaluation data show that TCP supports teens to develop:
Higher quality peer relationships & connections to others
Greater school belonging/engagement
Improved social-emotional skills
Improved well-being
Why TCP?
In the Centers for Disease Control's nationally representative survey of high school students in 2021, 37% of students reported they experienced poor mental health during the COVID-19 pandemic, and 44% reported feeling persistently sad or hopeless during the past year. Experiences of racism were high, and lesbian, gay, and bisexual youth and female youth reported greater levels of poor mental health.
U.S. Surgeon General has called the mental health of our nation's youth an "urgent public health crisis". The American Academy of Pediatrics, American Academy of Child and Adolescent Psychiatry and Children's Hospital Association declared a national emergency in child and adolescent mental health. Adolescents have faced two plus years of disrupted developmental experiences that continues to impact them. The adults serving youth in schools and organizations also struggle with the impact of the pandemic on their own well-being, while they search for solutions to best support teens.
In 2019, Wyman launched the Teen Connection Project (TCP), a highly engaging, evidence-based, social emotional learning program for high school students. TCP focuses on building healthy relationships and connections.
Teen Connection Project provides precisely what the CDC is recommending. It is a proactive experience of being cared for, supported, and belonging at school. A three-year research study of the program – conducted in St. Louis area high schools – showed positive impact on quality of peer relationships, social coping, emotional well- being, and school engagement. TCP has received CASEL's (Collaborative for Academic, Social, and Emotional Learning) highest designation for high-quality SEL programming.
What is TCP Partner?
A replication partner is an organization who is trained by Wyman in delivering and overseeing an implementation of the program.
Organizations ready to take on replicating TCP have the following qualities:
Strong leadership
Commitment to positive youth development
Stable, long-term implementation funding
Robust community and school partnerships
TCP is currently being replicated through the following organizations or schools:
University City High School, MO
The SPOT at Jennings High School, MO
California High School, MO
CHADS Coalition
St. Louis Children's Hospital
LifewiseSTL
New Mexico Department of Health
Newport High School, WA