Through 2020 and into 2021, our nation has dealt with the "triple pandemic" of COVID-19, economic uncertainty, and a heightened focus on the realities of systemic racism. During these challenging times, Wyman continues to deliver on our mission to serve teens, who need our support more than ever. We know these events have taken an especially devastating toll on the mental health and well-being of our nation's youth (e.g., Flanagan et al., 2021), and that recovery and healing will be a slow process, with progress and setbacks along the way.
While the last 18 months have been extremely difficult, these unprecedented times have also provided us with a window of opportunity to more deeply understand youth needs and experiences, reflect on what we've learned, and determine how we will apply those lessons to better meet the needs of young people moving forward.
In part one of this two-part series, we will explore how Wyman has adapted our approach to research and learning to honor the experiences and circumstances our young people and program staff are navigating. We will share what we have learned so far about Wyman's programming, teens, and staff during the triple pandemic.
"Do the best you can until you know better. Then when you know better, do better." — Maya Angelou
How did Wyman approach evaluation during the pandemic?
In the past, we have relied mainly on surveys of participants in our programs to give us the data needed to assess both youth outcomes and program experience. Beginning in 2020, we sought to more fully honor the experiences of our young people and practitioners as they navigated such difficult times. To do so, we focused on elevating youth and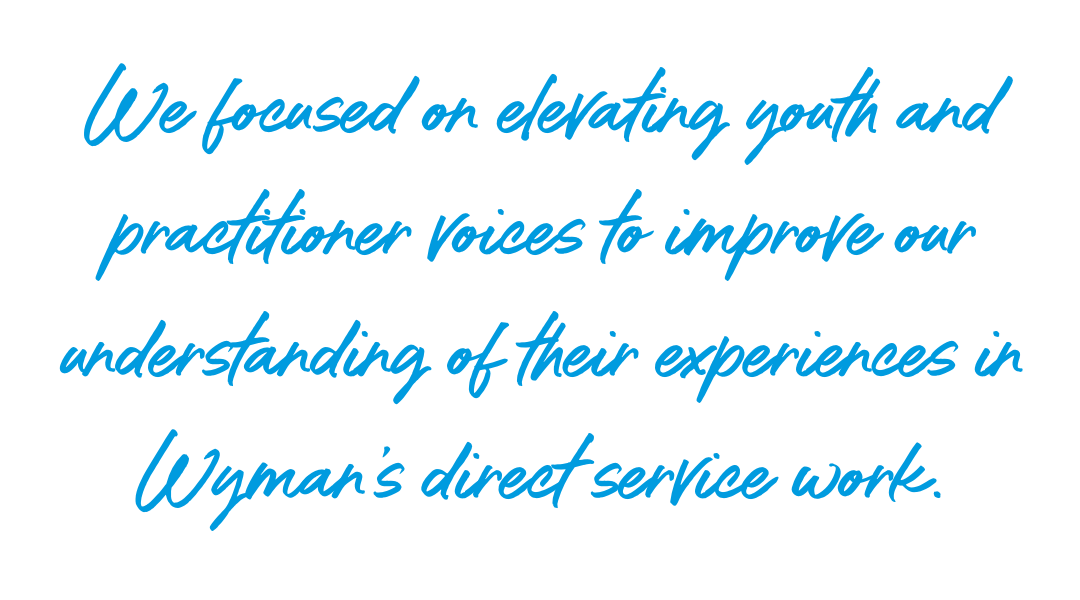 practitioner voices to improve our understanding of their experiences in Wyman's direct service work. We have begun to modify and enhance our approaches to evaluation by using focus groups and individual interviews with young people, program staff, and school implementation partners. We also added more open-ended survey questions to allow youth the opportunity to express themselves through writing.
What have we learned so far?
Consistent with results of national surveys (e.g., Margolis et al., 2020), youth served by Wyman reported experiencing many negative emotions, particularly in the Spring of 2020 when schools closed, and instruction shifted to the virtual space. These included fear, anxiety, loneliness, boredom, anger, grief and loss, fatigue, powerlessness, worry, defeat, and frustration.
As program delivery pivoted to the virtual space, Wyman staff experienced their own set of difficult emotions. They felt overwhelmed by the implications of shifting to virtual programming, including the need to use unfamiliar technology platforms. They also expressed sadness at the loss of seeing and interacting with youth in-person.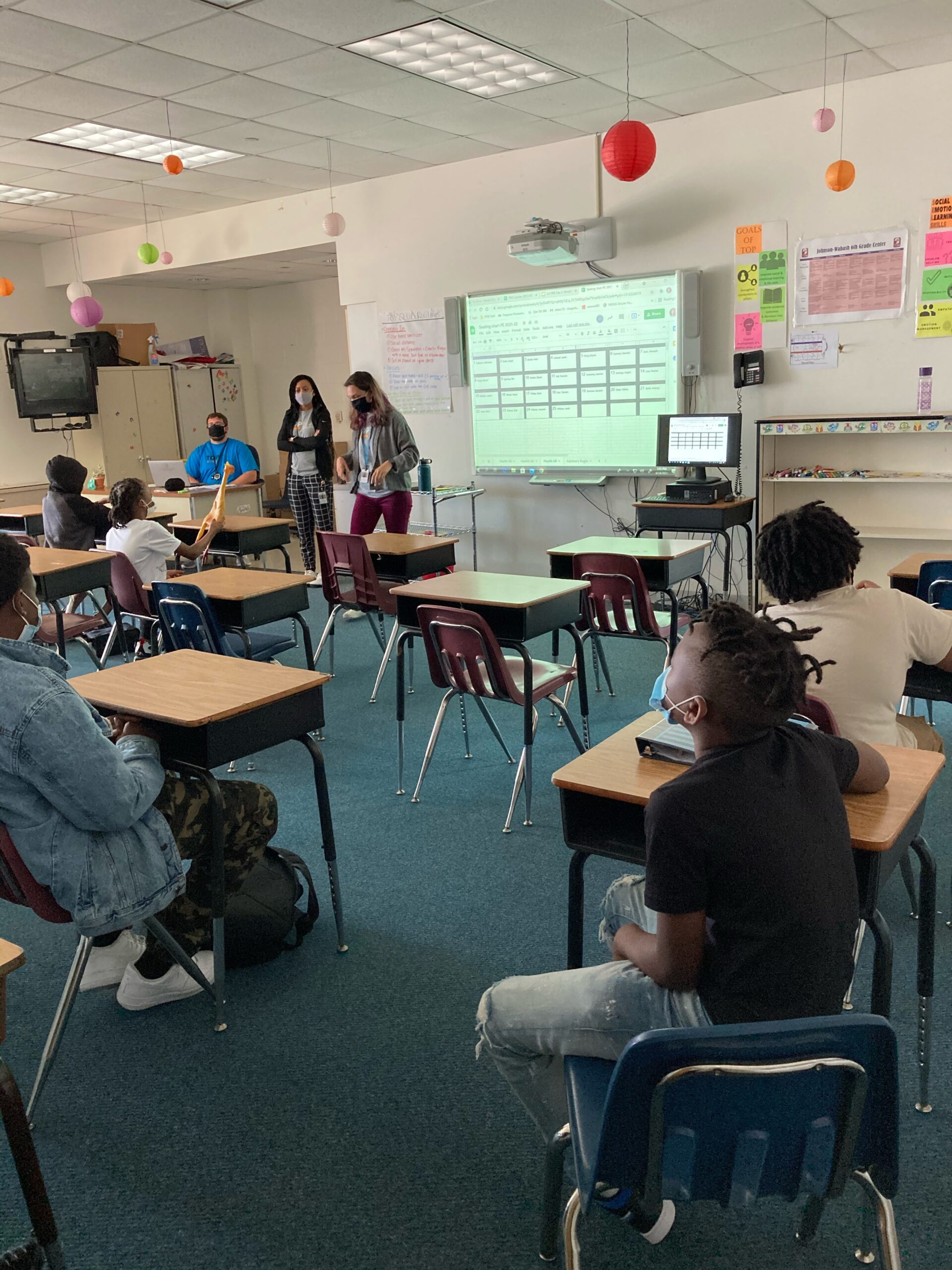 A year later, in the Spring of 2021, we checked in again with our youth and staff through focus groups and interviews. Many youth had returned to in-person school, and Wyman staff were providing both in-person and online versions of programs. We found that those initial negative feelings had lifted somewhat – Wyman youth expressed feeling more positive overall, though they are still dealing with emotional ups and downs. Many youth highlighted the return to in-person school as the reason they felt better. It was a return to some normalcy, and they were uplifted by seeing classmates and friends in-person again.
After a year of delivering services to youth within the context of the triple pandemic, Wyman staff expressed feeling more prepared and less overwhelmed, though still missing the ability to interact with youth in the same way they did pre-COVID.
While the last 18 months have taken an immense toll, staff also reflected on surprising "silver linings" from their experiences so far, such as:
Opportunities to get to know youth and colleagues in new ways through virtual platforms, for example, by meeting their family members and pets.
Learning new technology tools that they might not have otherwise tried.
Taking pride in the "small wins" each day, like feeling accomplished when youth would turn on their cameras or actively participate in other ways.
Realizing that programs can still be meaningful when delivered online — connections to others were made, social and emotional skills were developed, and meaningful service to the community was still possible.
Sticking with a familiar routine, even if the content is delivered in a new way, is critical, particularly when there is uncertainty in the broader environment.
Noticing that some youth may actually prefer connecting via video or through a chat rather than in-person, verbal exchanges — a subset of youth seemed to thrive in the virtual environment.
Confirming the importance of relationships and consistency in supporting youth through difficult emotions and events.
Being reminded that, when adults are fully present for them, youth respond.
Learning that during difficult times, staff can be creative, adaptive, and resilient.
How might we think about our work differently moving forward? Check out part two, Learning and Responding to Youth Needs: Wyman's Commitment to Doing the Next Right Thing, to explore how we can apply the learnings of the last 18 months and think differently about our work in the future.
Blog post content is based on a panel presentation delivered by Sarah Nace, Director of Programs, and Grace Bramman, Associate Director of Evaluation & Grants, at Wyman's 2021 National Network Coordinator Learning Exchange.