The University of Arkansas for Medical Sciences (UAMS) has been delivering TOP in junior high schools in northwest Arkansas since spring 2020. In the 21-22 school year, over 700 teens participated in TOP, including engaging lessons and Community Service Learning. Teens shared that they enjoy TOP and learn helpful skills. UAMS and local school district staff work in constant collaboration. Regular meetings include data review, planning, problem solving, and supporting one another. Collaborations with community
organizations, including with a local drug free coalition and a school nutrition team, further enhance their work.
TOP at UAMS
TOP lessons offer students the opportunity to participate in activities and discussions on a variety of topics, such as decision-making, relationships, and communication. Facilitators have strong relationships with
teens and encourage them to reflect, share,
and learn.
UAMS TOP teens have engaged in a variety of Community Service Learning activities. Teens made cards for veterans, and the cards were so beautiful and valued that the organization requested more! Teens also decorated placemats to brighten the cafeteria of a local Children's Hospital and cleared litter from a local park, with over 100 teens coming out to participate! Teens additionally assisted with a community drug free event.
UAMS's TOP implementation is enhanced by their investment in youth voice, including their youth leadership council. TOP clubs elect teens to the council, and council representatives meet to discuss what they like about program, what they suggest for improvements, and how the community can support teens overall.
The UAMS TOP staff and teens have a lot to celebrate, and at the end of each program cycle, they celebrate their accomplishments with food, music, and reflection.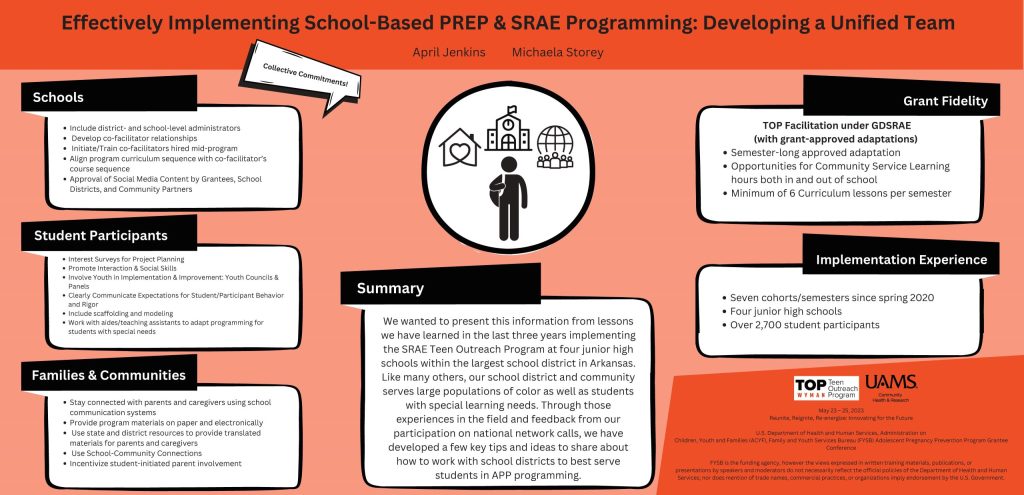 Interested in implementing TOP in your community?
Contact:
Tori Gale, Director – Partner Development | Wyman's National Network
tori.gale@wymancenter.org
314-712-2368