Delivered in St. Louis by Wyman, and across the country by our network of partners, the Teen Outreach Program (TOP) promotes positive youth development through a social-emotional curriculum, community service learning, and supportive relationships with adults. Teens are empowered with the tools and opportunities needed to develop social-emotional skills, build healthy relationships and community connections, develop a sense of purpose, and avoid risky behaviors
TOP is a 9-month program that serves teens ranging from 6th grade through 12th grade. Wyman directly delivers TOP to 500 teens in the St. Louis area in partnership with the School District of University City and the Ferguson-Florissant School District. An additional 23,000 teens are reached nationally through our National Network.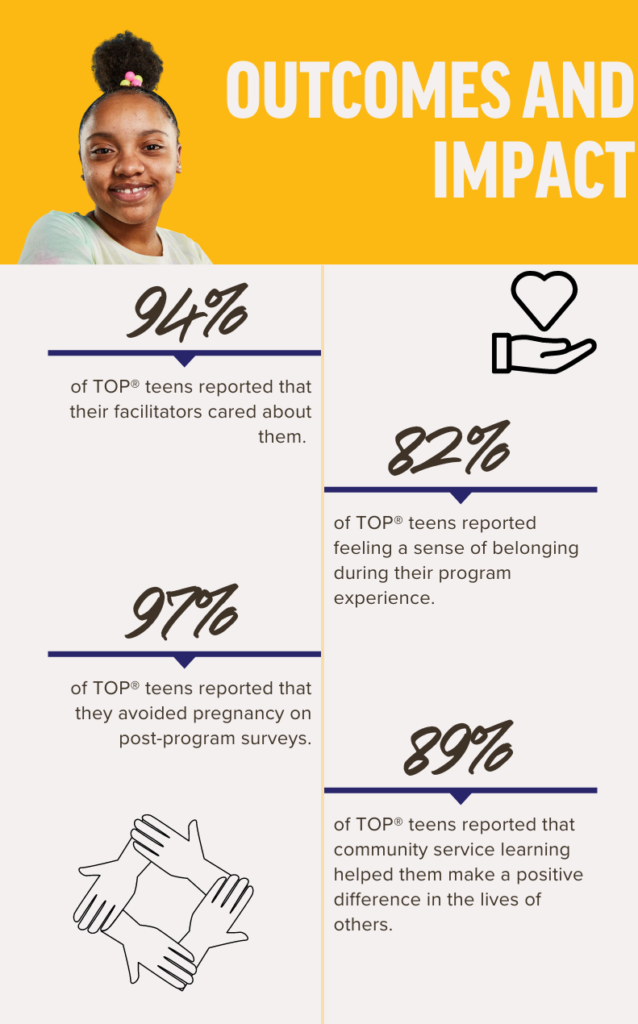 This evidence-based program, supported by years of strong external research, integrates three core components:
Interactive, engaging lessons from the TOP curriculum are facilitated during weekly group meetings. Lessons include content such as emotion management, problem solving, goal setting, and adolescent health and wellness. The curriculum is inclusive of youth from different backgrounds, and designed to be sensitive to trauma that participants may have experienced.
Teens have opportunities to give back to their communities and practice the skills they have learned by engaging in community service learning. These opportunities result in increased confidence, purpose, and connectedness to their communities.
Caring, responsive, and knowledgeable adult facilitators guide all group meetings and provide on-going support and coaching for students outside of those group meetings.

Currently, Wyman delivers TOP at Brittany Woods Middle School in The School District of University City, and at Johnson-Wabash 6th Grade Center and Wedgwood 6th Grade Center in the Ferguson-Florissant School District.

In early 2020, the public health crisis and school closures required TOP staff to quickly adjust their approach from in-person delivery to virtual programming – adopting a variety of strategies to deliver curriculum content and to stay connected with our TOP students. Click here to see how we adjusted programming during COVID-19.

In 2021, staff transitioned back to school-based implementation as districts moved into in-person instruction.


Find out what our TOP teens are up to!
TOP BWMS Winter 2022 Newsletter
TOP Johnson Wabash Winter 2022 Newsletter
TOP Wedgwood Winter 2022 Newsletter

Visit the TOP at Brittany Woods Middle School  and TOP at FFSD websites which share the voices of our TOP teens as they advocate, give back to the community, and grow in their social and emotional learning.

View our Teen Outreach Program Logic Model.

To see all of our program outcomes, visit our Outcomes and Impact page.