Wyman Leaders supports 530 St. Louis teens annually to enter and complete college and career education programs, develop life and leadership skills, and create strong connections to their communities – all with a focus on helping teens lead in their communities now, while preparing for a  successful transition into young adulthood.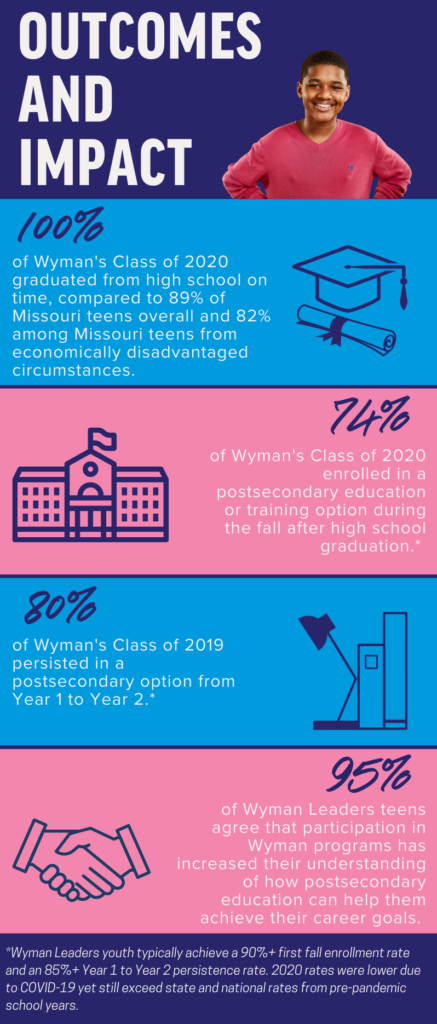 For 10 years – from 7th grade through four years of postsecondary education – our young people participate in intensive peer group experiences each summer, as well as consistent, individualized coaching and enrichment opportunities during the school year. This long-term engaging, empowering, and holistic experience supports teen development.

There are three phases to the Wyman Leaders program. Each phase includes activities and opportunities that support leadership development, community service, and career exploration – ensuring a holistic experience for youth as they build their skills and prepare for their futures.
In middle school, our teens participate in a 14-month academic experience to prepare for high school coursework; a summer residential experience at Wyman's camp; and individualized academic and social and emotional coaching.
As they move into high school, Wyman Leaders' teens participate in a residential leadership experience at Wyman's camp; college tours and immersion experiences; individualized academic and social and emotional coaching; and take on leadership roles within their high school and community.
In the final phase of the program, postsecondary, our young people participate in a summer bridge to support the effective transition into postsecondary; receive postsecondary scholarship support and individualized persistence coaching; are offered opportunities to work as seasonal staff and mentor younger teens; and continue to take on leadership roles in their schools and communities.

View our Wyman Leaders Program Logic Model.

To see all of our program outcomes, visit our Outcomes and Impact page.

For additional information, please contact Bryan Capers, Director of Wyman Leaders.