The Teen Connection Project (TCP), Wyman's newest evidence-based program, was developed through a research and practice partnership between Dr. Joseph Allen at the University of Virginia and Wyman. TCP is designed to improve peer relationships, social-emotional skills, school engagement, and well-being among high school aged youth.
TCP is a semester-long program and serves teens from 9th through 12th grade. Teens meet in small groups weekly and use a guided curriculum to build positive relationships with peers and adults, and then share what they have learned within their schools, homes, and communities.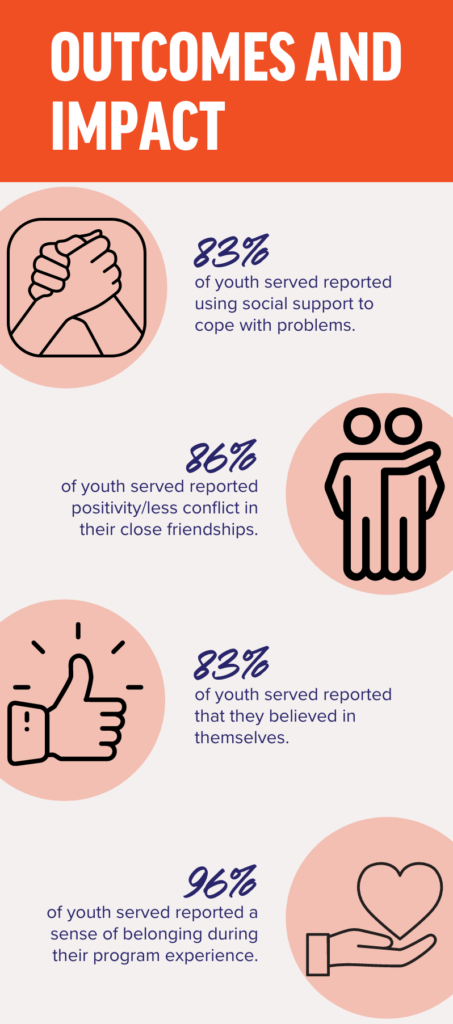 TCP is supported by evidence from a rigorous evaluation conducted by UVA, published in the journal Development and Psychopathology. The study, based on a sample of 610 high school youth, showed that TCP participation resulted in significant improvements in peer relationships, academic engagement, and use of social support to cope with stress, as well as lower levels of depressive symptoms. Read the full study here.

Since 2016, Wyman has delivered TCP to 353 teens across four school districts in St. Louis, MO. In 2019-2020, five partner organizations across the country piloted the program with youth in their communities. In 2020, TCP launched nationally as a fully replicable, evidence-based program.

View our Teen Connection Project Logic Model.

To see all of our program outcomes, visit our Outcomes and Impact page.

Interested in replicating TCP? Visit our National Network's website to learn more.