Interested in applying for tax credits for your donation to Wyman?
Missouri's Department of Economic Development has awarded Wyman Youth Opportunity Program (YOP) and Neighborhood Assistance Program (NAP) tax credits to support our work with young people across the region. Eligible donors receive a tax credit equaling 50% of their gift to Wyman.
By pairing YOP or NAP with usual tax deductions, your gift to Wyman could be made at a very low net cost.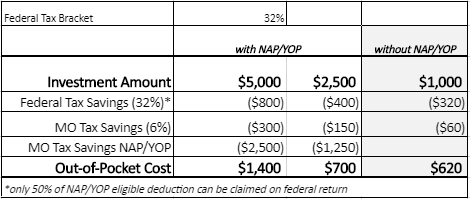 Who Qualifies?
These credits are available to qualified individuals and corporations, with an eligible gift of $1,000 or more. Corporations or individuals paying Missouri state income tax AND increasing their annual gift to Wyman or donating to Wyman for the first time are eligible. Gifts made via check, credit card, and stocks qualify.
Qualified donors include:
Individuals (YOP only)
Corporations
Farm Operation
Financial Institution
Individual partner in a Partnership or shareholder in an S-Corp
Individual reporting income from rental property or royalties
Insurance Company
Limited Liability Corporation or Partnership
Partnership
Sole Proprietorship
Small Business Corporation
The list of YOP qualified donors can be found here.
The list of NAP qualified donors can be found here.
How can YOU benefit from these programs?
You may apply your charitable donation to your federal and state income tax returns and receive an additional 50 percent Missouri State Tax Credit. Tax credits may be applied to the tax year in which the donation was made, or at any time in the next five tax years.
Contact Kristine Raterman to find out if your contribution is eligible for YOP or NAP, Kristine.Raterman@wymancenter.org or 636.549.1235.
Wyman's current YOP contract ends May 31st. All gifts utilizing YOP must be made before this date.
Please note that the Missouri Department of Economic Development requires all YOP/NAP applications and supporting documentation to be submitted within one year of the donation date. Applications submitted past that deadline will not be accepted. Donors are allowed to receive a maximum of $200,000 in YOP credits ($400,000 in donations) per tax year across all YOP projects to which they make a donation.